Specification:

No built-in amplification is required, and there is no deviation caused by the fluctuation of the power supply voltage due to the position temperature of the tool setting instrument. Can be directly input like NC program
The alarm signal is reflected in time, and an alarm signal is issued in time when the overtravel is performed, so as to avoid other troubles caused by the operation of the equipment.
High precision and strong anti-interference.

Color: silver + black
Material: Alloy
Voyage: 5mm
Output mode: B: NC
Pre-trip:almost zero
Repeatability: 0.001mm
Protection structure: IP67
Contact force: 1.5N
Contact material: hard alloy
Housing material: grinding 4S
Protection tube: 1m minimum bending radius R25
LED light: Off when working normally
Normally closed 4-wire circuit diagram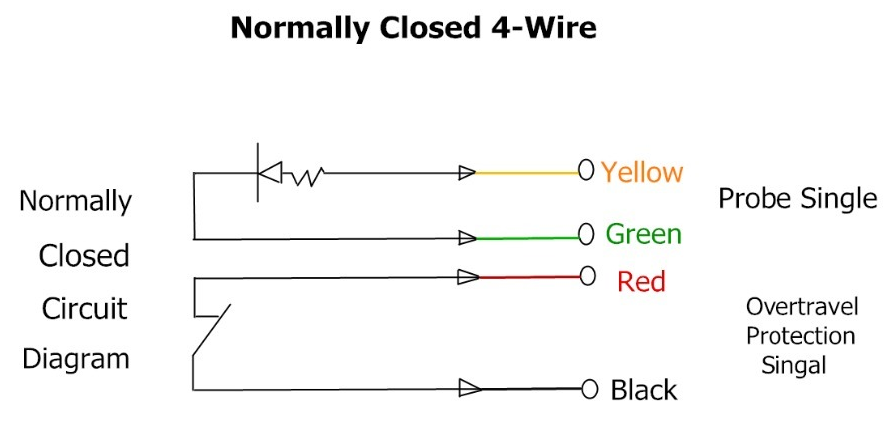 Attentions in the use of tool setting instrument:
1. contact can not exceed the tool alignment instrument stroke, will make the tool alignment instrument damage,(stroke is 5.0mm)
2. Do not immediately release the contact surface of the tool setting instrument by hand, so as not to damage the internal structure of the tool setting instrument and affect the service life and efficiency.
3. After the tool and tool alignment instrument is finished, the tool must be lifted vertically away from the contact surface, and do not move laterally or it will damage the tool alignment instrument.
The contact surface of the tool and the tool setter must be vertical and vertically downward to contact the contact surface. Try to install it on the workbench where there is less iron filings, so as not to affect the accuracy of the tool setter.
In the rated power supply range, the use voltage is controlled at DC10-30V, the current is below 20mA, and the use temperature range is -25°C-70°C. The use effect is better.
The diameter of the tool setting tool should be controlled below 20mm, and the tool setting speed should be controlled at 50-200mm/min The tool center should fall on the center of the tool facing.
Package includes:
1 X CNC tool presetter

Note: all the descriptions and prices are subject to change without prior notice.
Free Shipping: No
Shipping Weight/Unit(g): 0.00
Std. Packing Qty. (pcs): 1